Interview with Craig on Kentucky Cycling
Our friends at Kentucky Cycling invited Craig to chat about Wandrer in this video. Nathan and Craig discussed the origins of Wandrer, the details of the data and how the game works, as well as personal details like how Craig got into cycling and how many bikes he owns (an ever changing number).
They also take a look at the Kentucky leaderboard and marvel at the leader's map, in addition to discussing some of the fun side benefits of looking at maps all day. Thanks for the invitation and feature, Nathan!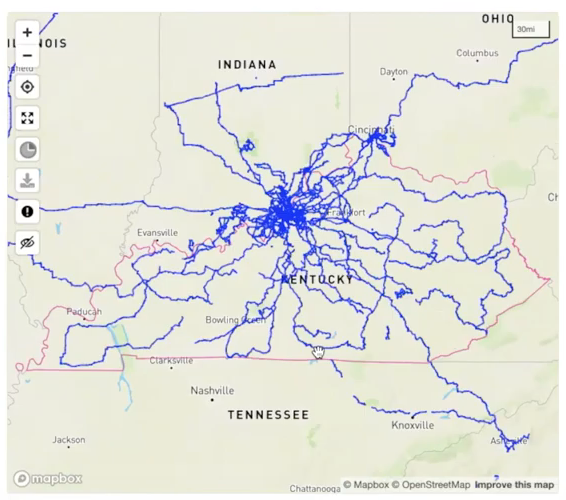 The #1 rider in Kentucky's map
Related Stories:
community
Wandrer on the Singletracks podcast
Craig sat down with Jeff from Singletracks and talked about all things Wandrer: where it came from and where it's going. And of course, he had to give a shout out to the most skilled mountain biker of all time, Chris Akrigg 😘
Read article
community
Ten thousand cans
Erik is cycling every road in Tucson, Arizona (all 3280 miles of them), trying (without much trouble it seems) to collect 10,000 aluminum cans along the way, and discovering adventure and new places close to home. Once the 10,000 cans are collected, the plan is to melt/process them in to a functional piece of art, (like a bike rack). Lots more info here and here and definitely worth a follow on Twitter / Instagram. Prepare to see lots of cans and lots of ridiculous giant trucks.
Read article